Insulin levels are an even better indicator of metabolic health than blood glucose.
You can have "normal" blood glucose levels while still having high insulin levels.
Reducing the insulin load of your diet (by reducing net carbs and moderating protein) will reduce blood glucose levels which will lead to reduced insulin and increased blood ketones.
Once blood glucose levels are under control and you are registering significant blood ketone levels, the glucose : ketone index (GKI) may be a useful indicator if you want to further fine tune your metabolic health.
The GKI provides an approximation of your insulin levels for people who are already fat adapted.
A GKI of less than 10 is considered to be a low insulin state. A GKI of less than 1 is the goal for cancer patients using therapeutic ketosis.
background
Since I wrote this article in which I plotted my relationship between blood glucose and ketones I have had some interesting discussions and learned a lot.  Particular thanks go to Raymund Edwards from the Optimal Ketogenic Living Facebook group and Jeff Cyr of the Ketogenic Diabetics Facebook group for sharing their knowledge and experience.
My hypothesis, in the absence of more data, was that for me at least, excellent blood glucose aligned with ketone values of greater than 0.5mmol/L and optimal blood glucose aligned with ketone values of around 1.3mmol/L.
Armed with this information I figured that there was limited benefit in doing the more expensive ketone tests regularly.  Monitoring blood glucose to ensure that the average is less than 5.4mmol/L (100mg/dL) seemed like a pretty good way to track my metabolic control.
The table below shows the relationship I developed between HbA1c, average blood glucose and ketone values based on my n = 1 data.  (Check out the Diabetes 102 article for more details on the basis for the blood sugar level categories and the article Ketosis the cure for diabetes for more details on my learnings measuring ketones and blood glucose).
 
HbA1c
average blood glucose
ketones
GKI
 (%)
 (mmol/L)
 (mg/dL)
 (mmol/L)
low normal
4.1
3.9
70
2.1
1.9
optimal
4.5
4.6
83
1.3
3.5
excellent
< 5.0
< 5.4
< 97
> 0.5
11
good
< 5.4
< 6
< 108
< 0.3
30
danger
> 6.5
7.8
> 140
< 0.3
39
the importance of insulin levels
High levels of insulin (hyperinsulinemia) are dangerous and are linked to a wide range of health issues including obesity, heart disease, Alzheimer's, impotence and cancer. [1]
People with higher insulin levels tend to be more obese as demonstrated by this chart. [2]
As illustrated in the figure below, the insulin levels in an obese person tend to be more constantly raised, rather than the more pulsative characteristics in a normal weight person.  Insulin isn't bad in and of itself, however constantly elevated insulin is a problem.
The official reference range for fasting insulin pegs "normal" at less than 25 mIU/L [3]; however given that the average insulin levels are 8.6 mIU/L and the western world is going through a crisis of metabolic health, it is probably safe to say that this cut off level is too high. [4]
Stephan Guyenet suggests that, based on healthy populations, optimal fasting insulin levels are likely to be between 2 to 6 mIU/L.  Ron Rosedale says that the lower we have our insulin levels the better. [5]
You are not considered to be 'pre-diabetic' until your fasting blood sugars are greater than 5.6mmol/L (100mg/dL) and post meal blood sugars greater than 7.8mmol/L (140mg/dL) however given there is a big gap between optimal blood sugar levels of 4.6mmol/L (83mg/dL) and pre-diabetic there is a good chance you will have higher than desirable insulin levels even if you are not considered 'pre-diabetic' (see the Diabetes 102 article for more details on the difference between 'normal' and optimal blood glucose levels).
the glucose ketone index calculator
When I joined the Optimal Ketogenic Living I came across Raymund Edwards' link to this paper by cancer researcher Thomas Seyfried which looked at the relationships between ketones and blood glucose as a possible indicator of metabolic health.
The paper suggests that if someone's glucose to ketone ratio (GKI) is low then you are metabolically healthy and "fat adapted".  The GKI value is calculated by dividing the glucose value by the ketone value measured at the same time (both in mmol/L, so those in the US using mg/dL will need to first divide their blood glucose readings by 18 to get to mmol/L).   I have shown the GKI values in the table above based on the average corresponding blood glucose and ketone levels.
According to Seyfried, the goal for cancer patients using a therapeutic ketogenic diet is to have a GKI of less than 1.0.  Patients with chronic disease like cancer typically have glucose to ketone index values of 50 or more.
For most people who are not trying to slow cancer growth or combat epilepsy through a ketogenic diet, anything under 10 is considered to be a "low insulin condition".  This is indicative that you are not significantly insulin resistant.
my data over time
I have plotted my GKI, along with blood glucose values, in the chart below. In January I managed to improve my blood glucose values by adding some intermittent fasting to what was already a fairly low carb type approach. This caused my blood sugars to come down and ketones to go up. Once my blood glucose reduced and I was showing some ketones, my GKI value was sitting at around 10.
If your blood glucose levels are above 6.0mmol/L or so it is hardly worth trying to measure ketones as they are going to be negligible and not tell you anything, so I suggest that you save your money on the ketone strips until  you have your blood glucose levels under control.  Once you are able to lower your blood glucose you will start to see blood ketones greater than 0.2mmol/L.
Personally I'm simply after normal blood glucose and some ketones for health, weight management and optimal brain function, so I'm not too concerned with the sort of extremely low GKI values that someone battling cancer or managing epilepsy would be aiming for.  For me achieving really low GKI values would require much greater levels of discipline, extended fasting and greater limitation of foods.  It also might be hard to eat regularly with my family and have the sort of diet that would be required to achieve those levels.
However if you are looking to manage extreme insulin resistance, epilepsy or cancer then pushing for very low GKI values may be worth pursuing.
crowd-sourcing data
Through the Facebook groups I was able to obtain more blood glucose/ketone data to add to mine.  The updated chart with the additional data is shown below, with a lot more points sitting out to the bottom right with higher ketones and lower blood glucose.
This data consists of:
60 data points from me through my journey from poor blood glucose control to improved blood glucose control and achieving my target weight,
35 data points from my dad who is in a similar position to me, refining his diet and experimenting with intermittent fasting to achieve better blood glucose control, and
60 data points from ten other people much more experienced in the ketogenic diet than me.
What's interesting to note is that the relationship between blood glucose levels and ketones is not necessarily linear.  As blood glucose levels drop ketones take over as the preferred fuel source.  As ketone levels increase blood glucose levels are held fairly stable.
The people with these exceptional ketone values are not achieving them with high fat diet and lots of MCT oil.  They're achieving them with multi day fasts.  Ketone will increase as the fast progresses.   Then next time they fast the ketone levels seem to increase more rapidly.
If multi day fasts are not your thing then shorter term intermittent fasting will produce a similar but less dramatic effect to improve insulin sensitivity and help to manage blood glucose levels.
Check out Ted Naiman's short guide to intermittent fasting here or Jason Fung's series on fasting here for more info.
I'd love to add some more data to this to better understand the relationship between blood glucose and ketones, so if you do experiment with this style of testing yourself then be sure to send your data through or add it in the comments below.
updated ketone reference values
The table below shows the updated ketone and GKI values that correspond to the various HbA1c risk levels as discussed in this article, with the extra ketone data the ketone levels for "low normal" and "optimal" increase substantially.
 
HbA1c
average blood glucose
ketones
GKI
 (%)
 (mmol/L)
 (mg/dL)
 (mmol/L)
low normal
4.1
3.9
70
4.0
1.0
optimal
4.5
4.6
83
2.4
1.8
excellent
< 5.0
< 5.4
< 97
> 0.3
18
good
< 5.4
< 6
< 108
< 0.3
danger
> 6.5
7.8
> 140
< 0.3
This updated analysis seems to align reasonably well with Phinney and Volek's optimal ketone chart shown below.  From this it appears that:
low level nutritional ketosis aligns with your blood glucose being under excellent control,
higher levels of ketones occur once you are highly fat adapted, and
in someone who is highly fat adapted, the body may hold the blood sugar relatively stable at the lower end of the normal range (using glucagon) while increasing ketones for fuel.
individual glucose : ketone relationships
The chart below shows the glucose values versus ketones plotted for each individual person.  I am not sure what to make of this other than the observation that people who are fat adapted have flatter lines with more points out to the right of the chart.
The table below shows the GKI for the range of individuals.  You can see that my dad (Merv) and I did not do anywhere as well compared with to the GKI values of the more experienced ketogenic dieters.
| | |
| --- | --- |
| Name  | GKI |
| Marty | 10.7 |
| Merv | 5.2 |
| Yvonne | 3.2 |
| Johanne | 3.1 |
| Lara | 2.8 |
| Nikki | 2.7 |
| Suhayb | 2.4 |
| Samie | 1.7 |
| Jeff | 1.7 |
| Raymund | 1.3 |
| Ashley | 1.5 |
| Sheryl | 1.5 |
| Andrew | 0.6 |
Andrew, with the lowest GKI value of 0.6, is using ketosis to fight cancer.  Check out his amazing story here or his blog here.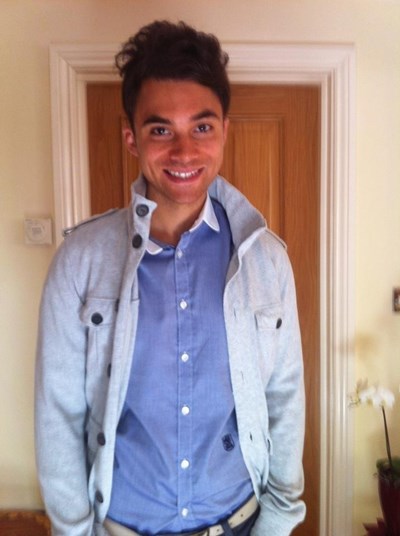 Jeff Cyr has used the ketogenic dietary approach to recover from extreme type 2 diabetes and now has a fasting insulin level of 2.2 uIU/mL and an HbA1c of 4.4%.  Jeff says that he has also used the ketogenic diet to recover from an autoimmune liver disease called Primary Sclerosing Cholangitis which he was diagnosed with in 2011 and given eight to ten years to live before dying of total liver failure.  His most recent bloodwork indicates that his liver tests are now normal.  No more death sentence!  He has also trimmed down a bit as shown in his before and after photos below.
summary
Hopefully there will be more research in the future to correlate fasting insulin levels with the GKI values. Or perhaps this dataset can be expanded to enable people to get a better feel for what constitutes optimal ketone values.
If it turns out that fasting insulin is approximately equivalent to GKI then perhaps we should be aiming for a GKI of somewhere less than 6 for general health (based on Guyenet's definition of optimal), with people battling more serious issues such as cancer or epilepsy targeting 2 or below?
It appears that the GKI is an interesting tool to empower people in the self-quantification and self-management of their health.
references
[1] http://onlinelibrary.wiley.com/doi/10.1111/dom.12412/abstract
[2] http://www.ncbi.nlm.nih.gov/pmc/articles/PMC329588/pdf/jcinvest00481-0161.pdf
[3] http://emedicine.medscape.com/article/2089224-overview
[4] http://wholehealthsource.blogspot.com.au/2009/12/whats-ideal-fasting-insulin-level.html
[5] http://articles.mercola.com/sites/articles/archive/2001/07/14/insulin-part-one.aspx